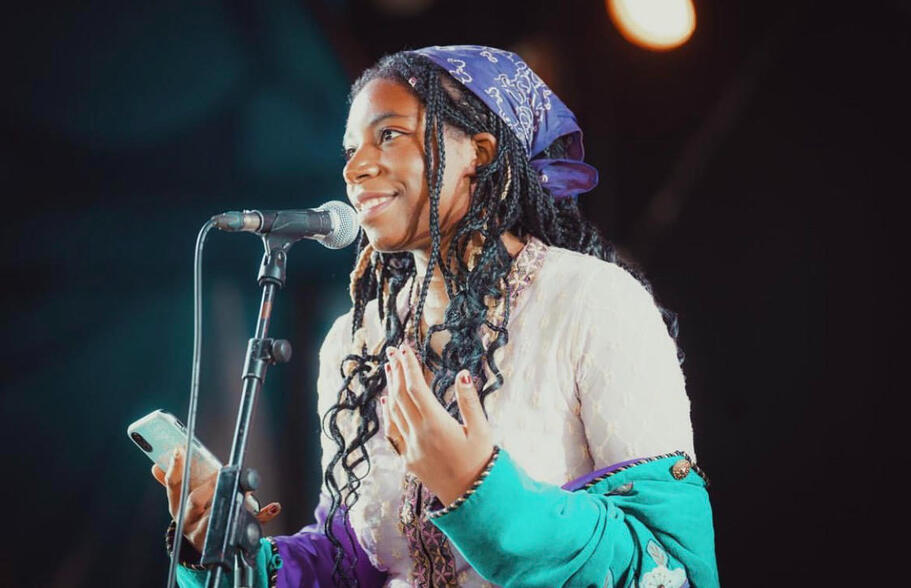 [Photo taken by Rachel Keeks of Dominique speaking at Reading Festival 2021]
Speaking & projects
---
A list of Dominique's public speaking and projects. For speaking engagements and paid bookings please email: domipalmer99gmail.com
Public Speaking:
- At the New York Times Hub at COP26 in a conservation hosted by Emma Watson: alongside Malala, Greta Thunberg, Tori Tsui, Daphne Frias, Vanessa Nakate, and Mya Rose Craig: https://climatehub.nytimes.com/session/728597/a-conversation-hosted-by-emma-watson
-On UN Women's Feminist Action Coalition for Climate Justice as a representative of Fridays for Future, spoke at the CSW66 Youth Forum and a co-contributor to the development of the Global Youth Recommendations: Youth, Gender and Climate Change.
-At the #ChangeNow2022 Summit alongside Simon Kofe, Minister for Justice, Communication &
Foreign Affairs of Tuvalu, Jonathan Jennings, of Health In Harmony, João Victor Queiroz da Silva, Head - International Cooperation Office of Salvador, Bahia.
- 2020 TEDxCountdown speaker with Climate Reality
- Spoke at COP26 at an event hosted by Louis VI, exploring why people of colour in the UK & the West have been purposefully alienated & disconnected from the Natural world & what we're doing about it: https://ukcop26.org/events/nature-aint-a-luxury-why-young-black-brown-people-feel-alienated-from-nature-in-the-uk-the-west-presented-by-artist-musician-louis-vi/
- Co-hosted workshop with the Grammy Museum & Live Out LA as part of #BeyondTheMainstage
- 350 Just Recovery Gathering alongside Naomi Klein and Amitav Ghosh.
- Spoke at COP25 alongside indigenous youth from Engajumundo.
- Financial Times with FTSchools
- Spoke at Reading Festival 2021.
- Women of Colour Conference 2021.
- One Question event with Wolfgang Blau Director at Conde Nast and Ben Page.
- Event with Mayor Khan and Mayor Garcetti with My Life My Say and Berggruen Institute: https://www.berggruen.org/events/from-local-to-global-the-fight-against-climate-changelive-virtual-conversation-event-with-mayors-eric-garcetti-los-angeles-sadiq-khan-london-and-youth-climate-activists/
- Youth Ocean and Climate Conference with Surfers Against Sewage, where she co-developed the youth manifesto with the team, and was a keynote speaker at the event. They presented this manifesto to keynote listeners including George Eustice the Secretary of State for Environment.
- In the official campaign for the Future Generations Bill introduced by Lord Bird in Parliament, she spoke to MPs across parties to encourage them to support this legislation.
- Delivered a talk at the Samsung KX Event space to school students interested in sustainability.
---
Projects (some are not listed here):
- Climate Live: a U.K coordinator for the Climate Live London launch event, with Declan Mckenna playing on the Thames in front of the House of Parliament. As part of an international launch to unite people through music for the planet to engage, educate and empower. The event was covered in NME, Music Week, Sky News, IQ, cultture and more.
- Dazed x #YoursToMake with Instagram campaign. Dominique Palmer partook in the #YoursToMake panel talk, a collaboration between Instagram and Dazed. Filmed inside an Instagram x HERVISIONS collaboration at Saatchi Gallery, the panel is backdropped by a motion art installation, 'Yours to Make: Fluid Imaginarium', an experimental artwork that transports you through various futuristic dimensions. The panellists were united with a Dazed host to talk about what it means to be British today. They explored how British identity is being reimagined, reclaimed and radically refreshed by the next generation. They go deep into their passion points and how Instagram is a medium to push culture forward. Dominique was also featured in the #YoursToMake campaign online, in Dazed digital and the winter issue of Dazed 2021.
- Co-Creator of a Future Learn Course with Samsung, in which she draws on her experience as a climate activist to give an overview of some of the challenges within sustainability today and the opportunities young people have to drive change: https://www.futurelearn.com/courses/designing-for-a-sustainable-future
- Pangaia Family Campaign as environmental talent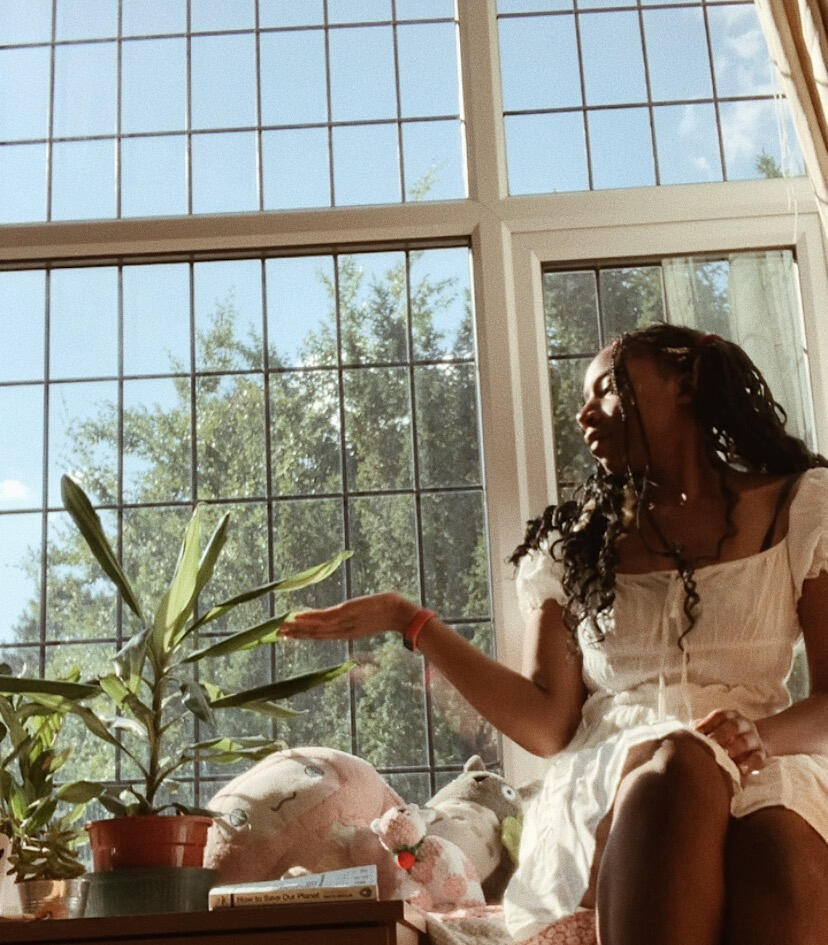 ---